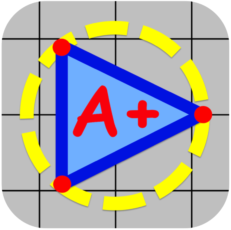 Geometry Ace
Geometry Ace is a fusion between a graphics based calculator and a geometry textbook.

---
Detailed step-by-step solutions update as you create new math problems by changing the graphics.
---
Learn vocabulary with unlimited examples.
Geometry Ace can be used by middle school and high school students as a math tutor for extra help.
Geometry Ace is a great tool for teachers to use in the classroom.
Points, Lines, Segments, Rays, Angles, Triangles, Quadrilaterals, Circles, Polygons
Dynamic Solutions
Geometry Ace does not simply calculate lengths and areas for you. It shows you step-by-step how to do it!

Detailed solutions update instantly as you change the graphics for a problem.
You are not limited to a set of pre-written or randomly generated problems. This allows you to investigate any "what if…" that comes to mind.
Dynamic Vocabulary
Learn vocabulary with unlimited examples and non-examples.

Classifications and properties of geometric shapes light up as you create shapes that meet the definitions.

Easily view definitions with the tap of a finger.
Transformations
ROTATIONS, REFLECTIONS, and TRANSLATIONS.

Easily change degrees of rotation, center of rotation, line of reflection, and translation vector.

Point mapping is shown!

Make a copy of pre-image and images so that successive transformations can be performed on the same object. Copies allow you to see previous steps.
Constructions
Includes points, lines, segments, circles, perpendicular lines, parallel lines, tangents, and angle bisectors.

Easily make attachments to points, lines, circles, intersections, and midpoints.
Algebra and Introductory Material
Includes necessary algebra topics needed for coordinate geometry such as finding slope and writing equations for lines.

Solutions are listed in fraction form (instead of decimals) whenever possible.

Includes introductory material such as how to find coordinates of a point.
Additional Features
Input Keypad
Menus allow for keypad entry of primary shapes which would be difficult to create by dragging the points in the workspace. Define the primary shape under study by entering points, angles, lengths, slopes, and y-intercepts. Use this to create equilateral triangles, 30-60-90 triangles, etc.
Teacher Mode
Allows teachers to monitor and interact with students who are on the same local wifi network and are running this app.
Quick-Starts
Allow teachers to quickly get all students on the same page with the same settings.
Skills Checks
Designed for students learning vocabulary. Skills are checked off as the student changes the primary shape to meet various requirements.
Load Reference Background Image
Use iPad camera to take a picture or load a picture from the iPad photo library.
Save and Export or Import Files
Eight internal save spots are provided for each primary shape workspace. Additionally, the workspace configuration can be saved to, or imported from, the clipboard or email.
Topics Included in Geometry Ace
(Listed by primary shape under study)

Point
Coordinates of a point
Quadrants in the coordinate plane
Distance between points
Translation, Reflection, Rotation
Line
Slope
Vertical, Horizontal
Y-intercept
Equation of a line
Equation of a parallel line
Equation of a perpendicular line
Distance between point and line
Distance between two parallel lines
Translation, Reflection, Rotation
Construction of a perpendicular line
Construction of a parallel line
Two lines
Parallel, Intersecting, Perpendicular
Slope of parallel lines
Slope of perpendicular lines
Coordinates-intersection of 2 lines
Angles between two lines
Three lines
Transversals
Alternate interior angles
Alternate exterior angles
Corresponding angles
Same side interior angles
Vertical angles
Linear pair of angles
Ray
Slope
Vertical, Horizontal
Y-intercept
Equation for a ray
Translation, Reflection, Rotation
Line Segment
Slope
Vertical, Horizontal
Y-intercept
Equation for a line segment
Midpoint of segment
Length of segment
Equation for perpendicular bisector
Construction of perpendicular bisector
Translation, Reflection, Rotation
Angle
Vertex, Legs, Interior, Measure
Acute, Right, Obtuse, Straight, Reflex
Convert between degrees and radians
Algebraic equation for angle bisector
Construction of angle bisector

Two Angles
Congruent, Adjacent, Complimentary, Supplementary, Linear Pair, Vertical
Polygon
Triangle, Quadrilateral, Pentagon, Hexagon, Heptagon, Octagon, Nonagon, Decagon
Convex, Concave
Regular, Irregular
Sum of interior angles
Triangle
Acute, Obtuse, Right, Oblique,
Equilateral, Isosceles, Scalene,
3-4-5
45-45-90
30-60-90
Perimeter
Area-BASIC ELEMENTARY
Area-coordinate plane-ALGEBRA
Area-Box Method
Centroid-ALGEBRA
Circumcenter-ALGEBRA
Incenter-ALGEBRA
Centroid-CONSTRUCTION
Circumcenter-CONSTRUCTION
Incenter-CONSTRUCTION
Translation, Reflection, Rotation
Quadrilateral
Square, Rectangle, Rhombus,
Parallelogram, Trapezoid, Kite
Perimeter
Area
Varignon parallelogram
Vertex centroid
Area centroid
Translation, Reflection, Rotation
Circle
Radius, Diameter, Tangent, Secant, Chord
Circumference
Area
Measure of an arc
Length of an arc
Area of a sector